​GREETINGS! Thank You for visiting my web site. My samples show a variety of work...from "Caricature Gifts from Photos"( a gift that is never forgotten! ) to my more serious artwork of pencil portraits. Please do not hesitate to contact me if you have questions. Thanks Again for "checking out my artwork." Cartoon Bill Crowley



---

" Oh, I hope and hope and hope that they didn't forget to contact "Cartoon Bill" to draw caricatures of their guests at the annual Holiday Party. The drawings always make terrific souvenirs of the party and I'm told that they always hang them up!!! Cool! Hard to believe, but Bill is getting calls for Holiday Parties already!!!

______________________________________________________

My "MISSION" statement: My goal is to always draw an accurate likeness with humor inserted ( as opposed to an "ugly caricature" that many artists seem to consider "funny".). I have no desire to draw a "boring" caricature gift that is drawn from photos provided to me by the client...meaning... I want the guest of honor to say "WOW! This gift is terrific! We'll have to hang it up in the office tomorrow!!!" A reaction like that is EXACTLY what my goal always is...to draw a fun, one-of-a-kind gift...that is NEVER forgotten!" "Cartoon Bill" Crowley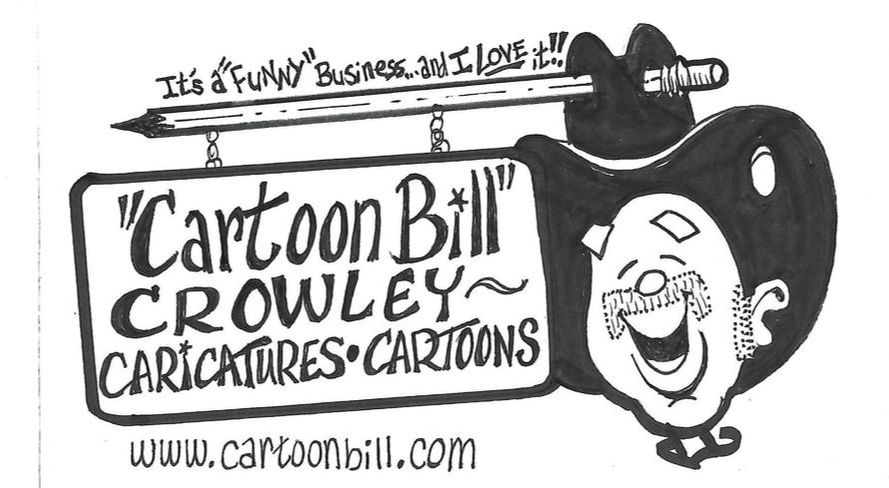 GREETINGS! Welcome to my "COLORFUL" web site. Every work of art that I create in my studio is ORIGINAL and One-Of-A-Kind. I specialize in creating "caricature gifts" from photos. All artwork is (1) hand-made and (2) created especially for the recipient...making the gift one that "they'll never forget!" Clients provide photos to me as well as "personality quirks and habits of the recipient"...including that person's favorite sports team, drink, expressions, etc., etc. 100% unique as a gift. QUESTION:"Who receives these fun and personal gifts??" Employees and /or an executive who is retiring or being re-located. The military keeps me very busy...PCS gifts are requested all the time. I've drawn Generals as well as Sergeants...they all have a sense of humor and love getting a PCS gift that in made "especially for them". Please take a look at my samples. They are all hand-drawn and hand-painted.Thank You Again for visiting my site.
The artwork shown here are actual projects I created for clients. All hand-drawn and hand-painted in watercolors. No computer is ever used. Many people e-mail me their photos...world-wide. I once drew a family of 18 who live in Belgium, thanks to the e-mail system. It was a gift to their grandparents. "Isn't it nice to get an original hand-made gift from someone? It shows that there was some real thought in the gift" and it's people like you that we artists need to keep our creative juices flowing. Thank You, Thank You, Thank You! Bill Crowley, artist ____________________________